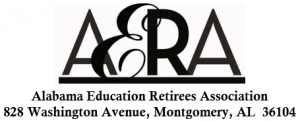 June 11, 2020
For immediate release
Contact: Jill Jackson
(800) 537-6867
Former AERA Employee Sentenced for Embezzlement
On Tuesday, June 9, 2020, a former employee of the Alabama Education Retirees Association (AERA), Vicki Lott Rohan, was sentenced to 15 months federal prison and three years probation for wire fraud. During a seven-year period, Ms. Rohan embezzled approximately $250,000 from AERA.
In April 2018, the theft was internally discovered by AERA Executive Director Jill Jackson. Upon discovering major financial discrepancies, Ms. Rohan was fired, and the FBI was contacted to pursue criminal charges. AERA was able to recoup some of the monies embezzled and is seeking further restitution for the entire amount. Due to the quick discovery of wrongdoings by Ms. Rohan, along with the immediate reporting of the crime, AERA has continued to operate at full capacity to serve its members. Mrs. Jackson stated, "The criminal conduct of former employee Ms. Rohan was dealt with swiftly and appropriately. AERA will always put the best interest of its members first."
With membership of over 23,000, which includes support personnel, classroom teachers, administrators, and higher education personnel, AERA serves as "The Voice for Alabama's Education Retirees." AERA is a not-for-profit organization with the mission to "actively protect the benefits and interests for all Alabama public education retirees." AERA supports all measures to assure earned benefits for public education retirees, supports health benefits for all public education retirees, opposes actions that diminish benefits for public education retirees, and promotes individuals who support and vote for public education retirees' interests.
For more information about AERA, contact the state office at 800-537-6867 or visit www.aerainc.org.