828 Washington Ave. Montgomery
, AL
36104
United States
1-800-537-6867
1-334-262-4177
Immediate Past President's Message
You are here:
Home
/
Immediate Past President's Message
AERA Immediate Past President Teresa Noell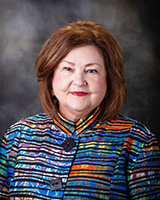 It has been my great honor to have served as President of the Alabama Education Retirees As-sociation for the past two years. Everyone has been so supportive and gracious during my tenure. I cannot adequately express my gratitude.
My presidency has seen many changes in AERA beginning with the retirement of our long-time Executive Director Janice Charlesworth. The search and interview process began, and Jill Jackson was chosen to lead us forward.
AERA has become much more legislatively active. The Legislative Team has worked to make the needs of our retirees known to lawmakers. Last year retirees received a small 13th check, the first additional compensation in 10 years. Although there was much work done for a bonus check in this year's session, including organizing an AERA member representation and seven of us speaking at the House Ways and Means Committee hearing, the legislature chose not to include education retirees in this year's budget. In April 2019, we held our first Legislative Reception followed by AERA's Legislative Day, attended by over 300 of our members. I was so proud of you as you covered the State House meeting and talking with your legislators.
When I campaigned for your votes two years ago, I promised to lead you in working on two major retiree concerns: TRS and PEEHIP protection. The legislature has funded both benefits at the rate necessary so that our retirement system remains sound and no premium or co-pay increases have been made. Yes, we need a monetary increase in our retirement benefits (ideally a COLA), and we will continue to work toward this; but we do need to celebrate our victory of sound retirement and health insurance benefits.
Membership in AERA is very important to me as it is to you. Our membership numbers are slowly increasing, but we still have great potential for growth. Our most successful method for gaining membership lies with our members. Once again, I ask you to invite those non-member retirees you know to join us. Tell them your story with your reasons for membership and enroll them. Our state office will help you with the form you need.
The Alabama Education Retirees Association is in good hands with strong elected leadership, an excellent executive director, and a great staff: Keron Forte, Veronica Dewees, Teresa Wingard, and Bernard Harris. You, our dedicated members, are the backbone of our association. I have greatly enjoyed visiting and sharing with your local chapters. You are busy, engaged, and dedicated to the work of your local and AERA. Thank you for the important difference you have made in the lives of your local students as you have worked on our Displaced Student project.
I wish newly elected AERA President Dr. Stafford Thompson a successful term in office. He will lead us well. I will serve under him on the board as immediate past president. I look forward to the future accomplishments of the Alabama Education Retirees Association!

Teresa Noell –  AERA Immediate Past President