828 Washington Ave. Montgomery
, AL
36104
United States
1-800-537-6867
1-334-262-4177
You are here:
Home
/
President's Message
AERA President Dr. Stafford Thompson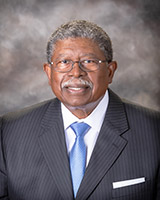 Happy New Year! We have survived the holidays, made new resolutions, and are now preparing to file our 2020 tax returns. By the time you receive this issue of The AERA Voice!, the 2021 Alabama Legislature will be in session. Legislators have in place new protocol for visitations. They will evaluate these new procedures early into the session, and make changes as needed.
As I stated in the previous issue of The AERA Voice!, our legislative team made every effort to contact legislators early. We have some prominent and well-respected legislators sponsoring our bonus check and Retirees' Trust Fund bills. The passage of the Trust Fund bill will be the beginning of the resolution for awarding retirees bonus checks to meet present and future cost–of-living expenses. As always, you, individually and collectively, will be instrumental in the success of our 2021 legislative strategy.
The information concerning the legislative contact teams has been disseminated. We will activate our teams as the need arises. Unfortunately, we will not be able to lobby en mass as we have in the past. Our legislative reception, where we as a group shared our legislative agenda with elected officials, has been canceled this year. Protocol prohibited AERA from hosting such events. However, thanks to AEA, they printed the 2021 Legislative Directory in the January 2021 issue of the Alabama School Journal. This directory provides the current contact information for legislators.
The AERA Annual Meeting is scheduled for May 11, 2021 in Montgomery. Due to the pandemic, the Renaissance Montgomery Hotel & Spa at the Convention Center, is the only facility large enough to accommodate us this year following CDC guidelines. Therefore, I encourage each local unit to identify your delegates as soon as you can. Information from the state office has been mailed to local unit presidents relative to the number of delegates per unit as well as other important information concerning the meeting.
I continue to encourage each of you to protect yourselves and others from the coronavirus and the new strains. Vaccine shots are available. Governor Kay Ivey has lowered the eligibility age to receive the vaccine to 65. Compliance with requests from the governor's office and the state health director appear to be having a positive impact on Alabama citizens.
Be Safe!
"And Jesus went about all the cities and villages, teaching in their synagogues, and preaching the gospel of the kingdom, and healing every sickness and every disease among the people." Matthew 9:35

Dr. Stafford Thompson –  AERA State President